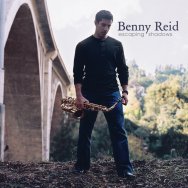 Benny Reid, 29, is an saxophonist, composer, teacher, and recording artist who studied at Indiana University and now resides in New York. (Find him on Twitter, All About Jazz, Myspace, or Youtube).
He recently released his second album, Escaping Shadows, on the Concord Jazz label.
It features Benny Reid (alto saxophone & keyboards), Richard Padron (acoustic and electric guitars), Pablo Vergara (piano, Fender Rhodes, keyboards), Daniel Loomis (bass and electric bass), Kenny Grohowski (drums), Jeff Taylor (vocals), and Ryan Fitch (percussion).
For a sample of the music on the CD, check out the video below (or on Youtube).
One of Benny Reid's main influences is Pat Metheny, and many of his compositions have parallels in some of Pat Metheny's earlier works. The title track, Escaping Shadows, reminds me of Metheny's Minuano Six Eight.
I'm a big fan of Pat Metheny so Benny Reid's compositions immediately appealed to me. His work is similar in style and interpretation to Bob Curnow's (who did a recording of Metheny's earlier works in a big band style). Benny Reid's arrangements make use of the smaller ensemble well and move between a contemporary, abstract style and an almost smooth-jazz sound for some of the melody lines and musical effects.
I especially enjoy Kenny Grohowski's sensitive, nuanced, and very active drumming (which tends on the busy side but is very musical).
Benny Reid has a great sound on the alto sax – a very clear, expressive and pure tone. He avoids repeating the often quoted licks of bebop and instead forges his own way, with easily recalled and infectious melodies that seem almost derivative in their simplicity, but taken in the context of the band and compositions are obviously original.
Escaping Shadows is available as a Mp3 download or a physical disk from Concord Music Group.