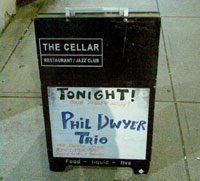 Here's a treat for jazz piano lovers. I'm really excited to share a live recording of the Phil Dwyer Trio, featuring Phil Dwyer (piano), Ken Lister (bass), and Jesse Cahill (drums) performing at the Jazz Cellar in Vancouver BC Canada on May 15th 2009.
Here is a little bit more about the musicians (from their Web Sites which are linked below).
Phil Dwyer:
Musician Phil Dwyer has been a force on the international jazz scene for over two decades. A critically acclaimed composer, arranger, and musical director, as well as gifted, intuitive perfomer on both saxophone and piano , Dwyer has performed with everyone from Aretha Franklin, Ian Tyson, and Gino Vannelli to jazz greats like Red Rodney, Ingrid Jensen, Randy Brecker, Tom Harrell, Jim Hall, Dave Holland, Don Thompson, and many others.

Before returning to his west coast roots on Vancouver Island in 2004, Dwyer spent 15 years as one of Toronto's busiest studio musicians appearing on hundreds of recording sessions, and working as a commercial composer and arranger. He also was a regular performer at Toronto clubs Top O' The Senator and Montreal Bistro, with Dave Young, Marcus Belgrave, Renee Rosnes, Carol Welsman, Moe Koffman, Randy Brecker and many others.

Doubling on tenor sax and piano, Dwyer was a member of the Hugh Fraser Quintet when they won the Alcan Jazz Competition in 1987 and the Juno Award for Looking Up in 1988. A long-time partnership with bassist Dave Young has produced a pair of recordings including 1993 Juno Award-winner, Fables and Dreams. Phil was also arranger, composer, and conductor on Guido Basso's 2003 Juno Award-winning recording, Lost in the Stars. Dwyer has also made three recordings with Robert Occhipinti and was a featured soloist on the bassist's Juno-nominated Yemaya.
Ken Lister:
Ken Lister has been playing jazz bass professionally since 1983. He is currently based in the Vancouver and Vancouver Island area, where he performs and teaches. Ken has extensively toured, both within Canada and internationally; including Australia, the British Isles, Cuba and South America.

Ken is a member of the Hugh Fraser Quintet and VEJI (the Vancouver Ensemble of Jazz Improvisation). As a member of the Hugh Fraser Quintet, Ken won a Juno Award for the Best Mainstream Jazz Album of 1997.

Ken also performs with the legendary jazz guitarist Pat Coleman in his trio, with Juno Award winner Buff Allen on drums. In addition to leading his own Sextet, he has performed with many great musicians including Slide Hampton, Chucho Valdes, Kenny Wheeler, Joshua Redman, Herb Ellis, Charlie Byrd, Rob McConnell, Ian McDougall, P.J. Perry, Sam Noto, Don Thompson, Tommy Banks, Carol Welsman, Kirk MacDonald, Bob McLaren, Jerry Fuller, Lorne Lofsky, Phil Dwyer, Ingrid Jensen, Misha Piatigorsky, Guido Basso and many others.
Jesse Cahill:
Jesse Cahill is known and respected as one of the foremost drummers on the Canadian jazz scene. He started playing drums at a young age and worked his first professional gigs at 16 in restaurants and clubs in his hometown of Victoria, British Columbia. In 1993 Jesse moved to Montreal to study music at McGill University, graduating in 1999 with a Bachelors Degree in Jazz Performance.

Influenced by the jazz and R&B Greats of the 1940s, '50s and '60s, Jesse has worked with jazz legends like David "Fathead" Newman, George Coleman, Red Holloway, Dr. Eddie Henderson and Charles MacPherson, as well internationally recognized artists such as Eric Alexander, Joe Magerelli, Jim Rotondi, Ryan Kysor, George Colligan and Bobby Shew. He also performs regularly with top Canadian artists including Tilden Webb, Jodi Proznick, Brad Turner, Phil Dwyer, P.J. Perry, Mike Allen, Neil Swainson, Bill Coon, Ken Lister, Miles Black, Roy Styfe and many others.

Jesse is a member of the Juno nominated and National Jazz Award winning Jodi Proznick Quartet. His recording resume includes sessions with Phil Dwyer's Sax Summit, the Brad Turner Quintet, the Tilden Web Trio and the Chad Makela Quartet. He also has two recordings in his own name: the first, "Night Crawlers: Presenting" on Cellar Live, was nominated for Album of the Year at the 2007 National Jazz Awards, and the second (which Jesse also produced) "Featuring: Red Holloway" is due out in early 2009.
Now on to the music… Phil and the band have generously given me permission to share these recordings with jazz piano lovers and music students on this blog. In his description of the concert, Phil wrote that they would be "saluting some of our favourite piano trios, including Oscar Peterson, Bill Evans, Errol Garner, Ahmad Jamal and others". The concert was fabulous!
Rhythm-A-Ning (Thelonious Monk) – version inspired by an album called Trio Music
by Chick Corea:


Dolphin Dance (Herbie Hancock):


Misty (Errol Garner) – featuring a new "hip" contemporary arrangement by the band (I really like this version):


It's Only a Paper Moon (Harold Arlen) – arrangement inspired by jazz pianist Geoff Keezer's album World Music
:


Days Gone By (Don Thompson) – a beautiful ballad:


Holy Land (Cedar Walton):


Two Bass Hit (Miles Davis) – inspired by Sonny Clark's trio recordings:


Hope you enjoy the concert (this was the first set). Please support live music in your community and check out these musicians' live performances when they come to your area!
Also if you liked the music you can purchase the musicians' CD's by contacting them through their web sites: Phil Dwyer, Ken Lister, Jesse Cahill.