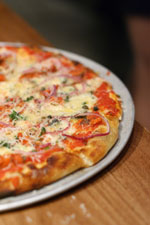 I saw a post on the imeem home page about an electronic pop band called Owl City (which, incidentally, is really popular: their Myspace page has over 12 million views).
Adam Young from Owl City has put together a music playlist on imeem entitled "Music To Eat Pizza To", and I think this is a fantastic idea!
Click here to visit imeem to listen to full playlist (with full length songs, free account required), or you can preview the songs using the player below.
Look out for my next original composition having to do with pizza, or maybe even sushi (coming soon, Geoff Peters: "Song to Eat Sushi To").