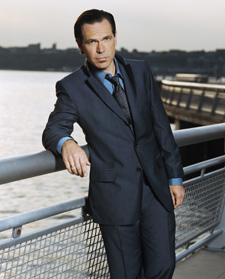 One of my all time favorite jazz vocalists is the inimitable Kurt Elling. He has been voted Male Vocalist of the Year for 10 years in a row by critics in Downbeat magazine and for 5 years by the Downbeat readers' choice awards.
Kurt Elling has done some really incredible recordings, and I am definitely going to go out and try to complete my collection and get all 8 of his albums.
The current JazzPianoCafe song of the week is Kurt Elling's recording of his very romantic original song, Where I Belong. It's from his 1998 album This Time It's Love. Here are the lyrics, courtesy of Kurt Elling's website:
I hear the woman like a song / dancing down a long corridor
Reminding me I belong where I am

I see the singing in the rain/ the rhythm at my windowpane
Reminding me I belong where I am

There is a light in the silence of loving things
And when I look in my baby's hopeful eyes
It's like the sound just before ever morning horizon
Light comes to life

It's like a magnet of loving sound / turning me rightside down
Keeping my two feet firmly planted on the ground
Reminding me I belong where I am.
You can listen to the song on iTunes for 99 cents, or listen for free on imeem (free account registration required). You can also purchase the CD or MP3's online from Amazon
.
This recording of Where I Belong features the following stellar musicians: Kurt Elling voice, Laurence Hobgood piano, Rob Amster bass, Michael Raynor percussion, Dave Oderdonk guitar, Paul Wertico drums, and Brad Wheeler soprano saxophone.
The track opens with burst of warm sound. A simple riff on the soprano sax is echoed by the piano, accompanied by drums, acoustic bass and guitar. The riff is repeated once and then Kurt Elling enters with his sparkling and luscious baritone. A hypnotizing bossa nova ensues, with an exciting and tasteful soprano sax solo well shaped to a gentle climax before the final vocal melody restatement. The outro is a vamp on the original intro riff, ending with a bit of Kurt Elling's whistling on the fade out.
Highly recommended! Hope you enjoy this song and check back again next week for another JazzPianoCafe "Song of the Week".
-Geoff Peters (Birds in the House Productions)