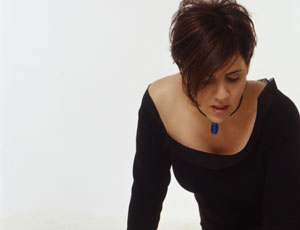 I just discovered the music of jazz vocalist Kate McGarry (view her page on All About Jazz, her website, or her myspace).
She has a really contemporary and modern sound, a bit similar to Bjork but with the passion and intensity of some of the classic "old school" vocalists like Ella Fitzgerald and Billie Holiday.
For the Jazz Piano Cafe "Song of the Week", I've picked Kate McGarry's track Stars off her 2005 album, Mercy Streets. Stars was composed by pianist Fred Hersch who also performs on this track. The track also features Steve Cardenas (electric and acoustic guitars), Keith Ganz (myspace, acoustic guitar), Sean Smith (bass), and Kenny Wollesen (drums).
You can listen to Stars at Imeem (streaming only, provided you register for a free account). It's also on iTunes (full song for 99 cents), and available directly from the record label, Palmetto Records, or by using the player below.
Stars is a wistful and beautiful song. The impressionistic glittering of Fred Hersch's gentle yet insistent piano explorations makes me imagine looking at a sky full of stars. Wollesen's drums and Smith's bass eventually reveal the hints of a sophisticated and pulsing bossa nova, that underlies McGarry's clear, sensitive, and nuanced vocal lines. The track progresses at a meandering walking pace through many harmonic directions into a thoughtful and motion-filled piano solo, and returns again to the original groove. My favorite part of the track is the line ending in "skies are friendless" at 2:15.
Here is an excerpt from the lyrics:
It's so much harder
I find
without the light
of endless stars.
Clear the wondrous winter sky
that casts its spell.
Warm your hand in mine.
Do you recall
who can tell
I wish I knew what I could do
to forget your face. What to do when nights are endless
and skies are friendless.
Not a star, bring back the stars, the endless stars.
I hope you enjoy this track! Stay tuned for more great songs of the week.
– Geoff Peters at Jazz Piano Cafe.com