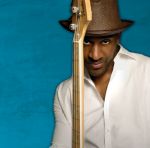 The JazzPianoCafe song of the week is "Your Amazing Grace" by Marcus Miller featuring Chaka Khan.
It's from Marcus's 2001 album M2 (find Marcus Miller M² on Amazon.com
).
The song features a stellar cast of musicians:
The track starts off with a soft synth patch and a triangle wave lead that repeats a catchy little riff, which is echoed by Marcus Miller's bass clarinet as it enters. The bass clarinet then plays the familiar melody from Amazing Grace, still over top of the synth pad. A drum and bass rhythm programming begins, but it is low in the mix (although it is well textured and contoured using cutoff filters). Chaka Khan's soulful voice enters and after introducing herself musically, begins on a totally different melody that is "Your Amazing Grace" – Marcus Miller's original composition. Kenny Garrett plays a killer alto-sax solo, and the song modulates keys, adding even more energy. An extended outro section keeps the music happening right 'till the end.
Listening to this song can excite something spiritual within me. I love how it's a fusion of electronic and acoustic, of jazz, soul and drum and bass. (Marcus Miller even adds a reggae-style bass line in the outro.)
The track is available on Imeem (free account registration required), or you can purchase the CD which it's on, M2 ("M Squared"), from Amazon. I've also included a streaming player below which should play the full version of the song.
Your Amazing Grace – Marcus Miller feat.Chaka Khan
Stay tuned for another great Song of the Week from JazzPianoCafe.com!
If you have any suggestions on a future song of the week, please email me at geoff@gpeters.com.
Take care and until next time,
Geoff Peters