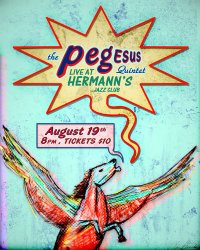 Back in August I performed a show with the pegEsus Quintet at Hermann's Jazz Club in Victoria.
pegEsus is led by vocalist Peggy Hogan, who is currently studying music and literature at Concordia University.
The pegEsus Quintet is: Peggy Hogan voice, Geoff Peters piano, Ben Fast bass, Nick Houghton drums, and Amanda Paterson saxophone.
I recorded the show using my Minidisc recorder and camcorder, and put together the whole thing online as a series of Youtube videos.
Here is a set list and links to the individual videos:
Set 1:
Set 2: