My friend Marcus was over for a visit today and he encouraged me to write a song dedicated to the new "love" in my life, my Petrof acoustic piano.
So I wrote a simple folk ballad which I call "Me N Petrof". It is similar to a Brad Mehldau song I vaguely remember listening to, as well as the American folk song Shenandoah which I played in high school band, quite a few years ago!
I made a rather hasty recording of it, just to get the idea cemented in my mind, and I wrote out a lead sheet on a piece of music notation paper.
Feel free to use the player above to listen to the song, or you can download the MP3 here.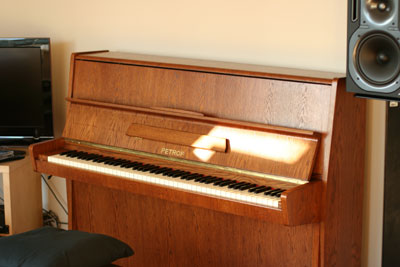 The Petrof piano brand is from the Czech Republic. Petrof pianos have been admired and enjoyed by many amazing musicians throughout the years, including jazz greats Keith Jarrett and Count Basie and classical pianists such as Sviatoslav Richter.
I purchased my piano from Yonatan Torn in Vancouver. Yonatan is a master Steinway piano tuner and technician in the Vancouver area who also imports, rebuilds, and sells pianos (mostly European pianos). You can find out more about his piano tuning and restoration services, and view the pianos currently for sale at his website.