I decided I am going to start a "Song of the Week" on this blog. Every week I will post a blog about a new song that I have found that I think is really great. There will be links to where you can listen to the song online and also purchase it.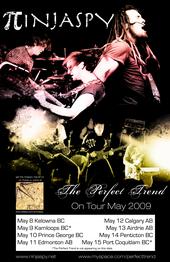 The first Song of the Week (SOTW) is a track by a band based in Vancouver BC Canada called Ninjaspy (band web site, myspace).
Ninjaspy is innovative in that they combine and blend genres in their music. They are a Hardcore Punk Rock band mixed with Funk and Ska/Reggae. Fusion is something I really enjoy, whether it is with food, music, or even other kinds of art.
While this blog is primarily about jazz and jazz piano, my friends have said that I have eclectic tastes in music, and I intend to write about any sort of music that I think is good. I was listening to the tracks on the Ninjaspy myspace page in the background and was working on something else, and suddenly I thought, hey, that's a really cool song.
The song is called Hit by a Cement Mixer (iTunes link, imeem link). It's a hugely dynamic song, going from a gentle whisper of a city soundscape to full on Hardcore screaming, to a catchy ska groove.
The best part of it is at 1:22 in the track (and several other times where the section is repeated), where there is a relaxing lull moment (just before 1:22) followed by a burst of guitar and excited screaming that ends in a harmonically beautiful guitar cadence.
The lyrics are quite graphic and dark, but poetic. I didn't catch all of them when I was listening to the song, but when I read them on a lyrics site I was a bit shocked. But a fairly depressing theme goes along with the band's Hardcore and edgy roots – it's crying out and it says something.
[JPC]
Ninjaspy
Song: Hit by a Cement Mixer
Album: Nature
Official Web Site
Album page at CDBaby
Listen on : iTunes, imeem